Admission FEES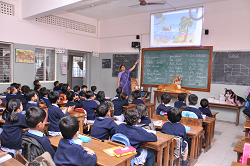 A. FEES:
i) The current rate of Monthly Tuition Fees, Term Fees etc., can be obtained from the School Office. Except for the Nursery, Std.I, and V, fees are to be paid Term wise and in advance before the beginning of each Term. Fees for the Nursery, Stds. I and V are to be paid for the entire year as Std. I is the starting of the Primary school and Std V of the Secondary school and all students entering those classes are new admissions.
ii) The staff salaries and establishment expenses of the School are met entirely from the fees that the School receives from the parents. It becomes very difficult to provide the essential requirements for the School if the fees are not paid in time. Students whose Fee Arrears accumulate may not be allowed to attend the School.
iii) Fees are to be paid in Cash only and during the timings specified in the School Office. Fees are NOT ACCEPTED ON SATURDAYS. Payment by cheque requires the prior permission of the Principal.
Fee Chart
B. REFUND OF FEES:
i) Fees are refunded subject to the parent giving the School one clear calendar month's notice of the intention to withdraw the child.
ii) The monthly Tuition Fees of the remaining months for which the child will no longer be on the rolls in the School will be refunded.
iii) In case one month's notice has not been given before withdrawing the child, then one month's Tuition Fee will be deducted from the Fees to be refunded.
iv) The Term Fees for the Second Term will be refunded provided the child is not on the rolls of the School for the Second Term.
v) The following Fees will not be refunded: a) Term Fees of the First Term. b) Staff Welfare Fund Fees for the entire year. c) Development Fee for the entire year. d) Term Fees of the Second Term in case the child has attended School in the Second Term.
C. WITHDRAWALS:
i) A child can be withdrawn from the school after giving the school one month's clear notice of the parents intention. Leaving Certificates are given only to Children from Std.I and above. The Application for the Leaving Certificate must be signed by the parent and submitted to the School Office. The Leaving Certificate will be given to the parent only, and within three days of the application for the same being received in the School Office.
ii) In the case of Pre-Primary Children, the Parent may request the School to issue a Bonafide Certificate in lieu of a Leaving Certificate as Leaving Certificates are not issued to Pre-Primary Children.
iii) Withdrawals at the end of the Academic Year are to be completed before the 31st of May. Fees for the month/s immediately after 31st May will be charged in case the withdrawal is made in the New Academic Year.
---
Latest News and Events
---
Notice Board