Admission Procedure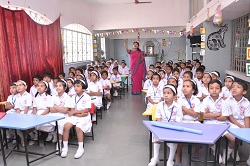 i) The School does not accept Donations for Admissions.
ii) Admissions for the Nursery take place in April. Children eligible for the Nursery must have completed 2 1/2 years but not more than 3 1/2 years as on 31st July of the year for which the admission is sought.
Details regarding the Nursery Admission

Procedure can be obtained from the School Office.
iii) Admission to the L.K.G. & H.K.G. and Stds I to VIII depends upon clear vacancies existing in those classes AND the clearing of an Admission Test, the details of which can be had from the School Office.
N.B. The original Birth Certificate of the child is an essential prerequisite for admission to the Pre-Primary Section. Entries in the Birth Certificate should be in English. The name of the Child and surname of the Parent must also be clearly stated along with the name of the father and mother.
Only in exceptional cases like the transfer of parents to Baramati on Government Duty, etc. will the applications for admission; to Std.IX (S.S.C.) be considered. Admission Tests will be administered in such cases too.
Students who fail to clear the Admission Test cannot be considered for admission in the class for which the admission is sought. They will be offered Admission to the class which is lower than the one in which the Admission was sought, provided a vacancy exists there.
Admissions in Std. IX I.C.S.E. can only be from another I.C.S.E. school and subject to the Council for the I.S.C.E. clearing the admission.
Registration for Admission for the LKG onwards will be considered after the first week of May. Registration does not guarantee an admission per se.
iv) The School reserves the right to accept or reject applications for admission without assigning any reason for the same.
---
Latest News and Events
---
Notice Board